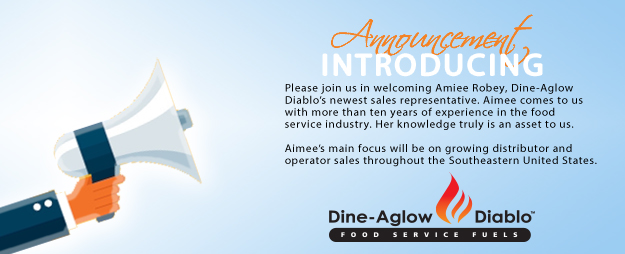 DINE-AGLOW DIABLO Food Service Fuels is always finding ways to improve service and increase product sales. One way that DAD Fuels accomplishes this is by combining product knowledge with intense, multi-level, targeted marketing campaigns. By targeting specific demographics, we are able to generate high profile leads and sales for our distributors while lowering the operating expense for the end user.
DAD Fuels is pleased to introduce Aimee Robey as the newest member of our growing sales team. Aimee comes to DAD Fuels, with over 10+ years of foodservice and hospitality experience. Aimee is our new Southeastern Regional Sales Manager and she will be helping businesses in that region grow by developing relationships, supporting distributors and improving sales and marketing.
Aimee will be managing all sales responsibilities throughout NC, SC, GA, FL, AL, MS, LA, TX, OK, TN, AR. Aimee's new contact details are as follows:
Aimee Robey
Southeastern Regional Sales Manager
Email:aimee@dadfuels.com
Cell Phone: 610-908-7165
Aimee will be contacting you shortly to greet you and address any opportunities that you have about DAD Fuels products, programs and costs. We're sure you'll enjoy working with Aimee – she's quite knowledgeable and she's a pleasure to talk to.
As always, we thank you for your continued support and we look forward to further developing our mutual business relationship. We're always here if you have any questions or concerns.