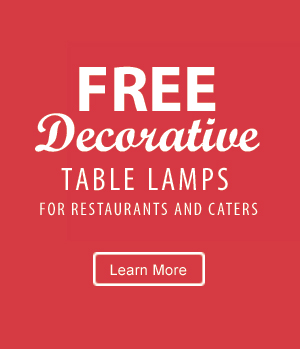 DINE-AGLOW DIABLO™ Food Service Fuels is the only manufacture that offers FREE DECORATIVE TABLE LAMPS to restaurants and catering businesses all year long. No one else in the industry can make this claim! No special limited time offers, you can get your lamps for free anytime!
It's simple!
Here's How To Get Your Free Decorative Table Lamps
There are no limitations. You can choose any lamp from our large selection of decorative table lamps. Shop our online catalog at www.dadfuels.com/restaurant-table-lamps/ and purchase the lamps you want. We will immediately ship your selections directly to you.
Dine-Aglow© Lamp Voucher Program©
Next, purchase Dine-Aglow fuel from your local supplier or distributor. You can also contact your Dine-Aglow Diablo directly at 1-800-LAMP-LTD and a sales representative will help you find a distributor in your area. On every case of DF10, DF15 and DF305 authorized Dine-Aglow liquid wax lamp fuel will be a pre-printed an official "Dine-Aglow© Lamp Voucher©". Simply clip and mail the authorized "Lamp Voucher©" in to us and we will reimburse you up to the full value of your lamp purchase.
It's that simple to get your free decorative table lamps that will enhance the beauty of your restaurant or event.
BUY OUR LAMPS AND BUY OUR FUEL TO USE IN THOSE LAMPS,
GET REIMBURSED FOR 100% OF VALUE OF THE LAMPS YOU PURCHASED.
LAMPS + FUEL = FREE LAMPS